Shadowclad® Flashings

Manufactured from extruded aluminium or folded from stainless steel, the Shadowclad® Flashings range is purpose-designed to complement the Shadowclad plywood panel range.
Aluminium horizontally installed flashings come in 3600mm lengths and vertically installed angles are available in 3000mm & 6000mm lengths. Stainless Steel flashings are available in 3000mm lengths.
Request a Shadowclad Product Sample Here

Features & Benefits
Shadowclad Flashings Range
Available in aluminium or stainless steel
A range of profiles including internal and external angles
Purpose-designed for use with Shadowclad plywood panels in exterior applications
Aluminium flashings available in Mill or Natural Anodised finishes
Stainless Steel flashings suitable for sea spray zone
Compliance
Independently tested for weathertightness and compliant with table 20 of E2/AS1, Shadowclad flashings achieve 50-year durability in all NZS 3604 exposure zones, including zone D (sea spray).
Flashings
Shadowclad aluminium flashings are available in either natural anodised finish (silver colour) for immediate installation, or mill finished allowing them to be powder coated to any desired colour finish.
Speak to your local Powdercoater to get more information.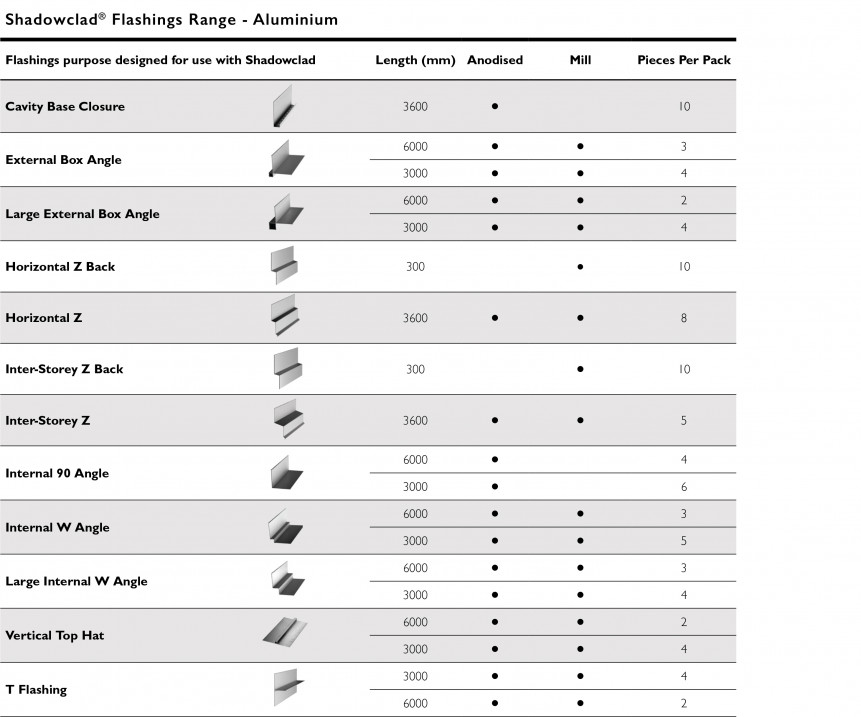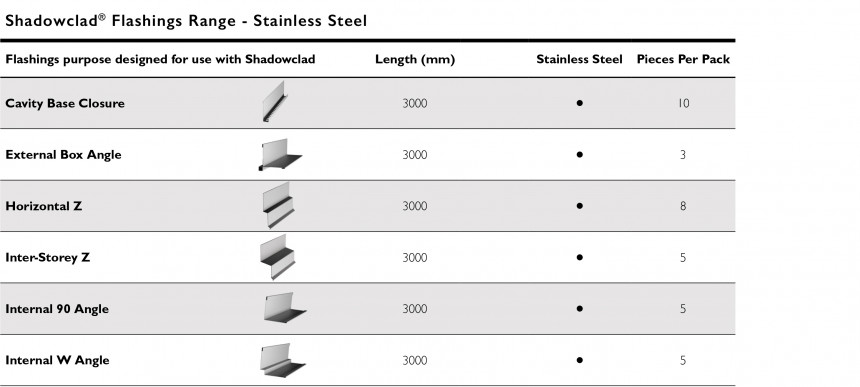 Mill finish is pre-treated to AS3715. Powder coating to the desired colour is required prior to installation.
Download Shadowclad Flashings range and dimensions
For Specification and Installation Guides and further information on Cavity Construction click the link below:
Cad
Certification
BRANZ appraisal for Shadowclad on a ventilated cavity.

Technical Note
Video
Shadowclad Vertical Sheet Joint Groove Profile
Shadowclad Horizontal Continuous Flashing
Shadowclad Mid Floor Horizontal Joint
Shadowclad Vertical Sheet Joint Texture Profile
Shadowclad External Corner Box Flashings
Shadowclad Overhangs & Ground Clearances
Shadowclad Window jamb & sill
Shadowclad Window Top Flashing
Shadowclad Internal Corner 'W' Flashing
Shadowclad Flashing Junctions & Connections with Horizontal & Back Flashing
Shadowclad External Corner with Cover Boards
Sds
Brochure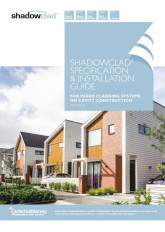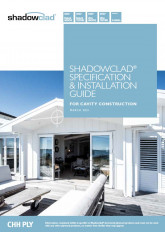 Building Product Information
Product Technical Statement and Building Information Sheet for Shadowclad used in Cavity Construction